These amazing folks helped turn Scottsburg into Mayberry at our 2023 event. Stay tuned for the list of Tribute Artists who'll be joining us in 2024.
Mayberry Comes to Scottsburg is fortunate to have a large group of nationally known Tribute Artists in attendance. These wonderful performers will make you feel that you're experiencing an actual episode of The Andy Griffith Show. They'll be available for pictures, autographs, and will share a variety show that will include recreations of some favorite scenes straight from Mayberry.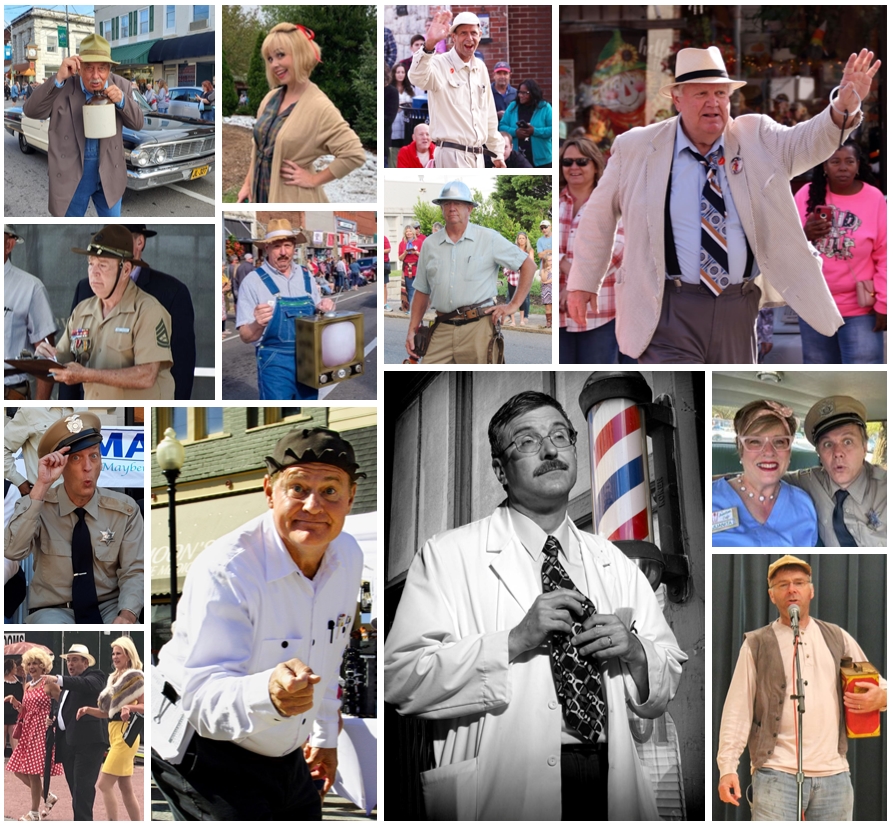 Here's a little background on the Tribute Artists you'll meet.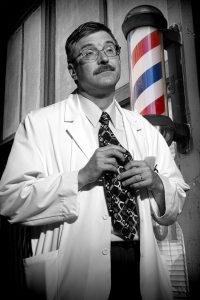 Allan Newsome was raised in a small rural Alabama town much like Mayberry. He's been performing as Floyd since 1994 at Mayberry events around the country having appeared as "Floyd the barber" in over 17 states and performing at the Opryland Hotel, churches, theaters, festivals, civic events, and on cruise ships. He co-started in the "Mayberry Man" movie and, along with several others appearing at the Scottsburg event, in the upcoming Mayberry Man series.

www.mayberrybarber.com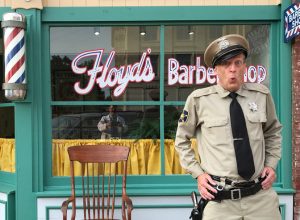 Rik Roberts is a Nashville, TN based comedian and speaker who focuses on providing 100% clean comedy and creative keynotes to groups who need a fun and engaging program. Rik co-starred in "Mayberry Man" as a "Barney" tribute artist after having worked the characters behavior into his stand-up routines for years. RikRoberts.com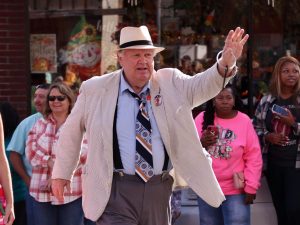 Kenneth Junkin has been recognized as the Number 1 Mayberry Fan in America. His love of The Andy Griffith Show has enabled him to perform such duties and providing security for Don Knotts, and performing as Mayberry's lovable town drunk Otis Campbell for nearly three decades.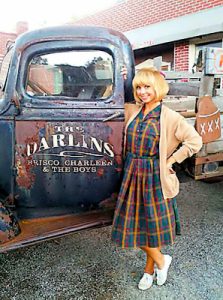 Christie McLendon has been portraying "Charlene" since she stumbled across the Mayberry family during the Mayberry Cruise in 2009 and became a regular attendee for that event. She has appeared at numerous other Mayberry events and she played multiple roles in the Mayberry Man movie. To paraphrase Briscoe Darling, "Her haircut may be city style but her heart is shaped like a bowl."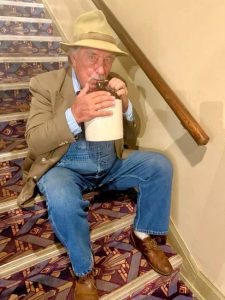 Bo Pierce portrays the head of the Darling family, Briscoe. He can get guitar sounds, banjo sounds, and all kinds of music out of the jug when his plays it. He has to be careful with his music selection because music really touches his heart and many Charlene's songs make him cry. This man of Mayberry wisdom demands good behavior from his entire family to include no yelling at the table.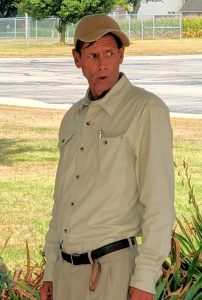 Chris "Gomer" Bauman is an Indiana University graduate from Columbus, Ind. now residing in Indianapolis. Chris works as an artist and comic with over 25 years of professional Improv experience. He acts locally, teaches improvisational classes, and produces improv comedy shows. Miss Right has evidently managed to hide from Chris and he believes she may be trying to win the U.S. National Hide and Seek Championship. He appreciates her "stick-to-itiveness" and hopes to someday kiss her right in the mouth (even though his parents only shook hands on their deal).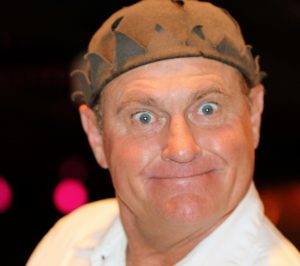 Tim Pettigrew has been performing at Mayberry events and entertaining crowds for the better part of two decades. George Lindsey himself enjoyed Tim's performance as Goober and even gave him tips on how to be "Goober." Be sure to to tell him "hey" when you see him and maybe he'll do his Edward G. Robinson impersonation for you.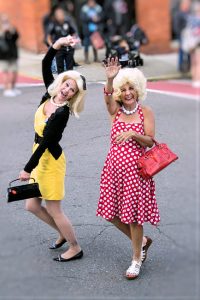 The "Fun Girls" from Mt. Pilot have been a fixture at Mayberry Days, the Mayberry Cruise, and many other Mayberry events where they entertain the crowds (especially men who remind them of Sheriff Taylor and Deputy Fife). Dixie Griffith, Andy Griffith's daughter, portrays "Skippy" and did so for several years before folks even found out she was Andy's daughter. She keep her true identity under wraps because she truly enjoyed being just another "fan" and experiencing Mayberry. Her partner "fun girl" is Michelle Bryson portraying "Daphne" who's catch phrase, "Hello doll," is one that most fans quickly remember. Both of these wonderful ladies are sure to make you smile.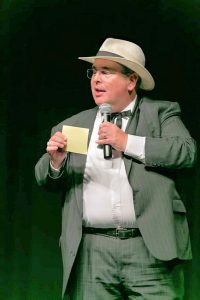 Scottsburg's own Eric Lowry portrays Mayberry's first Mayor, well… the first one we see on screen, Mayor Pike. Eric stepped into the role of Mayor Pike in the early 2000's and has done it all… from emcee to auctioneer in the attempt to keep the Mayberry spirit alive. Eric also starred as a judge in the 2021 Mayberry Man movie and made all of Mayberry proud. He has also been instrumental in bringing Mayberry to Scottsburg and has a right to be mighty proud of himself. Be sure to tell the Mayor "hey" and thank him for what he does. He'll be glad to hear from a voter.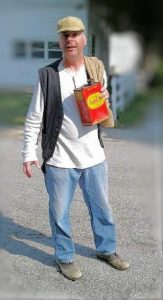 Phil Lee as been performing as Ernest T. Bass since the early 1990s. He, along with a Barney Fife tribute artist, were the original tributes ever to appear at Mayberry Days. He has been using his clever wit to make fans and friends laugh for much of his life. He's been walking in to rooms nice and he ain't been shaking ladies hands. He can read several words, sight wise, and can add numbers up to at least 50 (25 and 25……FIFTY). Barney is a little worried about those rocks he carries in his burlap sack.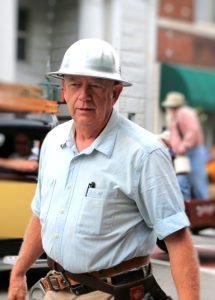 Ted Womack has been appearing at Mayberry events as "Mr. McBeevee" and bringing smiles for several years. Mr. McBeevee promises not to gossip or share what he has heard over the phonelines while working on the party lines around town wearing his shiny silver hat and using his 12 extra hands. But one thing he can do for you is make smoke come out of his ears. Ted truly loves representing Mr. McBeevee and sharing the morals taught in that episode.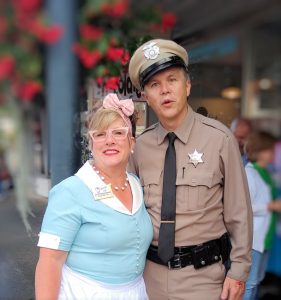 Terry Varvel stepped into the role as a tribute artist for Deputy Fife in 2017 at Mayberry in the Midwest after having already done the character from time-to-time for smaller gatherings. Since then, he has become a regular at Mayberry events. His wife Tonya also got into the act appearing as Barney's (oft-sung-to but never heard or seen) love interest, Juanita… just don't tell Thelma Lou. This couple has added so much enjoyment to fans and you will certainly want to take a few minutes to get a ticket or place an order.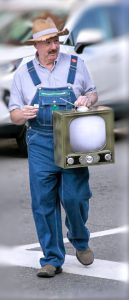 Rick Grimsley is a fan of The Andy Griffith Show and for years attended Mayberry events where tribute artist continually referred to him as "Henry Bennett" because of his likeness to the Mayberry citizen. Eventually Rick gave up and just started dressing as "the town jinx" and took ownership of the role. He has been "pulling out the hat size" and watching folks rub rabbit foots with a smile. He often even has the TV set that the citizens of Mayberry presented him to prove he wasn't really a jinx and showing how rich he is to have so many friends. Just be sure to take some precautions if you're going to be too near him so the jinx doesn't rub off.